The Great Lakes Towing Company Honored by Cuyahoga Community College as Industrial Manufacturing Employer of the Year
12/02/2015
The Great Lakes Towing Company was named the 2015 Industrial Manufacturing Employer of the Year by Cuyahoga Community College on Thursday, November 19, 2015 at the annual Workforce Community and Economic Development Employer Appreciation Luncheon.
The Workforce, Community and Economic Development Division of Cuyahoga Community College (Tri-C) invited community leaders and advocates from across Northeast Ohio to the Employer Appreciation Luncheon to recognize employers that have supported the College's academic, certificate, credentialing and student internship programs.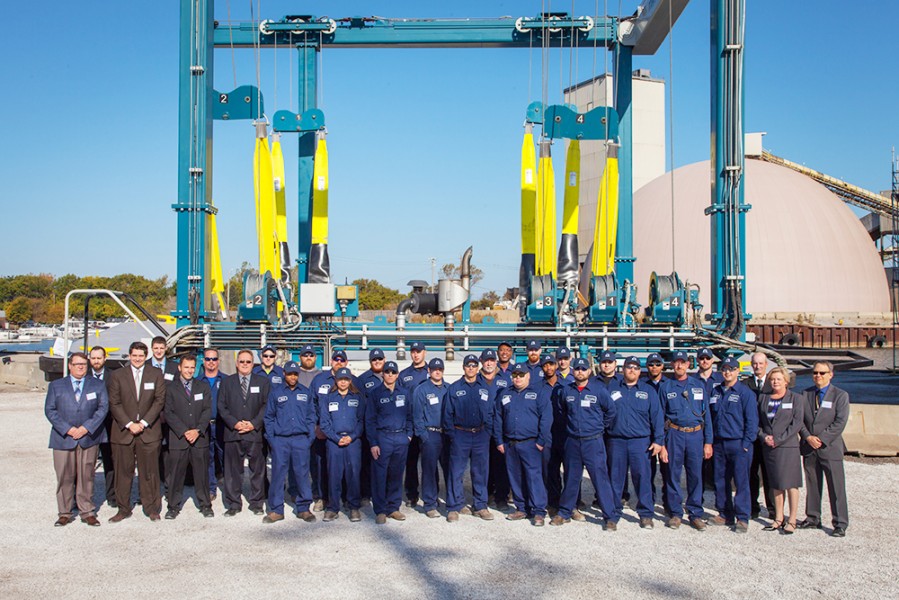 Creating a workforce pipeline has been a priority for The Great Lakes Towing Company and its Shipyard for several years. As a community partner, The Company has a long history of incorporating community engagement into their corporate culture by partnering with Saint Martin de Porres High School (a Cristo Rey Network School), Cleveland Municipal School District's Max S. Hayes High School and Cuyahoga Community College's Work Force Training program.
In Fall 2015, the Company collaborated with Cuyahoga Community College's Work Force Training program to aid in the development of the welding program curriculum. With continual changes to technology and standards, the Company works with Cuyahoga Community College instructors to ensure students are receiving the most up-to-date training. This year, the Shipyard is also participating in an internship program sponsored through the Magnet Workforce and Talent Development Program by Ohio Means Jobs and the Make it in American Grant that the Medina County Workforce Development is providing to Northeast Ohio welding students. Corporate partners can then choose to hire interns following the ten-week program.
2015 Award Recipients
ADDITIVE MANUFACTURING – The Technology House
WORKFORCE – University Hospitals
IT – ASGMi
ADVANCED TRAINING ACADEMY – Hose Master
INDUSTRIAL MANUFACTURING – The Great Lakes Towing Company
HEALTHCARE – Brookdale Westlake Village
PRIVATE SECURITY – Cleveland Metropolitan School District
TRUCK DRIVING ACADEMY – Lancer Insurance Company
MANUFACTURING – Swagelok
POLICE ACADEMY – Lozick Family