Local Talent, Global Impact
04/13/2016
The Great Lakes Towing Company & Great Lakes Shipyard Hire 20 Employees in Q1 2016 
The Great Lakes Towing Company and Great Lakes Shipyard has announced the addition of 20 new employees in Q1 2016.  They are looking to hire an additional 50+ employees before the end of Q4 2016 to support continued growth driven by client demand.
"We're looking toward the future," Joe Starck, The Company's President said. "We're strategically focusing our efforts on finding, developing, and training a team of professionals.  We want a growing workforce to successfully accomplish the contracts we have now and the potential contracts we are working on. This starts with hiring world-class talent." Recent, new hires include:
Michael Burnes
Financial Analyst & Cost Accountant
Michael Burnes has over five (5) years of professional experience in accounting, business management and financial services consulting. Burnes explains that his career move was prompted by "the new challenge to work directly for a manufacturer in a complex and unique industry. Vessel repair and construction is an amazing process from engineering and design to production and final delivery."
Nicholas Wallinder
Health, Safety, Security & Environmental Coordinator
Nicholas Wallinder is a recent graduate of the State University of New York (SUNY) Maritime College. Wallinder graduated with a degree in Naval Architecture and a USCG 3rd Mates license. "My education at SUNY and interest in maritime has prepared me for this great start to my career. I enjoy working closely with the Director of Operations & Compliance as well as the Fleet Captain and tug crews. I'm looking forward to learning all I can and growing with The Company."
Christopher Swenk
Marine Traffic & Operations Assistant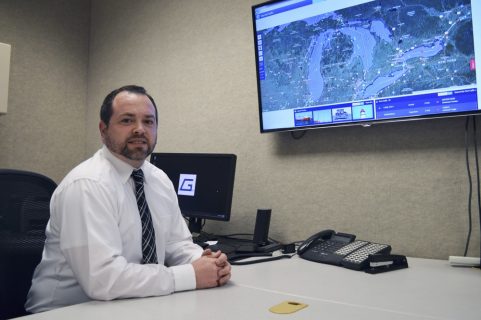 Christoper Swenk was a Telecommunication Specialist with the United States Coast Guard from 1997-2002 and recently returned to the maritime industry. "It's great to be back in maritime. I'm really enjoying it and love working directly with the tug crews and Fleet Captain and helping The Company however I can."
In addition to these new hires, Great Lakes Shipyard is continuing to expand its workforce due to the increase in new construction projects for the Shipyard.  Further, three interns that were hired in 2015 recently completed their internship program and have returned to their academic studies at Webb Institute, a leading engineering school where students are educated in Naval Architecture and Marine Engineering. We thank them for a job well done:
Mike Imbesi, Engineer Intern
Easton Tilicki, Engineer Intern
Mike Bhio, Engineer Intern
The Great Lakes Towing Company plans to hire 50+ employees before the end of Q4 2016 to support continued growth driven by client demand.
"At The Towing Company, we're looking for great people to join our team and grow with us," said Joe Starck, The Company's President. "We are committed to hiring a diverse team – providing employees with a unique opportunity to learn and develop through training, to perpetuate our position as a leader in the Great Lakes community and throughout the industry."
The Company is now seeking candidates to fill a wide range of positions including Naval Architects, Shipyard Welders & Pipe Fitters, Project Managers and more.
Current Shipyard Positions Include:
Shipyard Welders & Pipe Fitters
Naval Architect
Project Engineers
Outside Machinists
Mechanics
Diesel Mechanics
Marine Electricians
Steel Foreman
Painters
Production Planner
Current Towing Positions Include:
Tug Captains
Tug Engineers
Senior Port Engineers
Shoreside Mechanic
Benefits
The Company offers an excellent benefits package that includes:
Healthcare
Dental
Vision
Life insurance
Short-term and long term disability insurance
Employee assistance program
401(k) profit sharing plan
Vacation and sick time
Company paid holidays
Friendly working environment
The Great Lakes Towing Company is an Affirmative Action & Equal Opportunity Employer M|F|Vets|Disabled.
To learn more, visit the Careers page.  Interested candidates can submit their resume and/or application to:
Email: hr@thegreatlakesgroup.com
Fax: 216-781-7472
Mail: Attn: Human Resources Department, The Great Lakes Group, 4500 Division Avenue, Cleveland, OH 44102