USCG Issues Certificates of Inspection to Great Lakes Towing Fleet Under Subchapter M
07/10/2019
The Great Lakes Towing Company proudly announces that eight (8) of the Company's tugs, representing more than a quarter of its active harbor towing fleet, have received U. S. Coast Guard Certificates of Inspection. The Certificates of Inspection, issued a full month ahead of the required deadline, represent the Company's dedication to ensuring its tugs meet or exceed the newly implemented Coast Guard towing vessel inspection regulations, commonly referred to as Subchapter M.
The newly certified tugs include the CLEVELAND and OHIO, two newly constructed Damen Stan Tug 1907 ICE design boats, built by Great Lakes Shipyard, as well as the venerable "G"-Tugs COLORADO, IOWA, MISSOURI, NEBRASKA, NEW JERSEY, and WYOMING.
Nick Wallinder, HSSE Coordinator, leads the Towing Company's Subchapter M compliance efforts. "We are very gratified to have hit this important milestone. It has been an 'all hands on deck' effort. All of us, from our crews to our customers, should take pride in the fact that our tugs meet or exceed the industry's highest levels of towing safety management," comments Wallinder.
Over the last few years, The Towing Company has worked in partnership with the USCG and the American Bureau of Shipping (ABS) in preparation for the enforcement of the new 46 CFR Subchapter M laws.
"ABS is an industry leader in supporting clients achieve compliance with the Subchapter M regulations. We are proud to have been part of team helping The Great Lakes Towing Company to achieve this milestone," said Joseph Kelly, ABS Vice President, North America Regional Operations.
This initial issuance sets the stage for the next three years, during which the remainder of the Towing Company's fleet will be inspected and issued COIs, and by 2022, the entire fleet will be in compliance.
"The Great Lakes Towing Company is at the forefront of the industry's rigorous ambition to implement the new safety requirements of Subchapter M. I am particularly proud of my team, and as a company we truly appreciate the partnerships that have developed with the Coast Guard and ABS as we continue to obtain certificates for our tugs," confirms Lindsay Dew, Director of Operations & Compliance.
Subchapter M has taken safety in the towing industry to a new and historic level by setting minimum safety standards for towing vessels, incorporating and building upon the regulatory safeguards already in place, to ensure that the entire industry achieves the level of safety necessary to protect lives, the environment, and property. The issuance of Certificates of Inspection for existing towing vessels is being phased in over four years. Subchapter M is the most important rulemaking ever to affect the tugboat industry, and the Towing Company is well on its way to successfully achieving full implementation throughout its entire operation across the Great Lakes.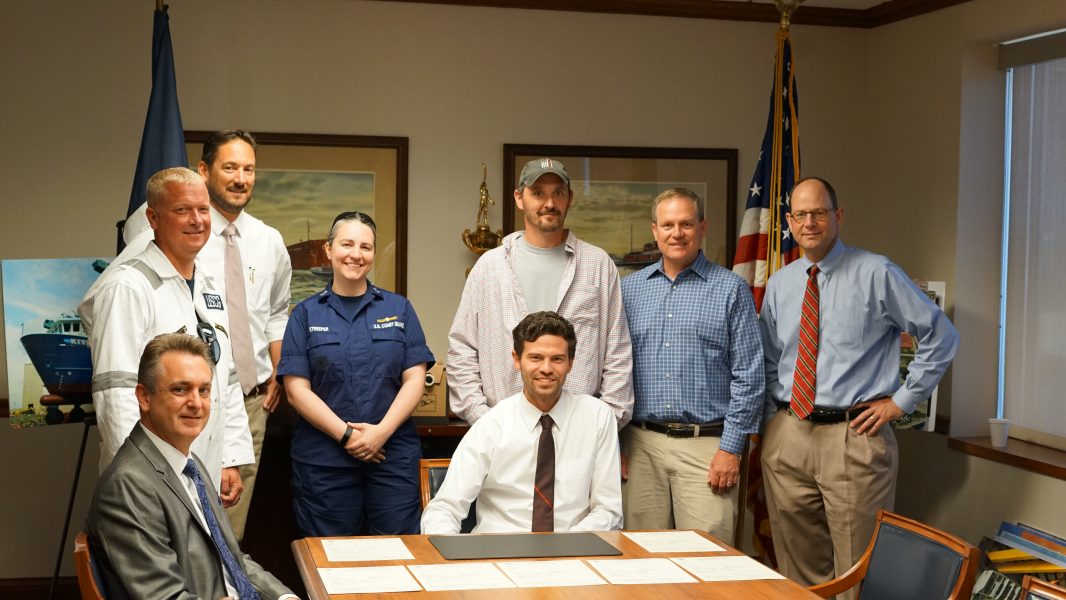 (Standing L to R: Robie Moorhouse , Marine Inspector, USCG; Lindsay Dew, Director of Operations, GLT; Lieutenant Vauna Streeper, Chief of Inspections, USCG; Ken Siford, Jr., Assistant Fleet Engineer, GLT; Scott Tozzi, Principal Surveyor, ABS Cleveland; Joe Starck, President, GLT – Sitting L to R: Gregg Thauvette, VP, Operations, Sales & Marketing, GLT; Nick Wallinder, HSSE Coordinator, GLT)