The Great Lakes Towing Company Repositions Tug HURON to Duluth, Enhances Capabilities of Current Fleet for Ice Breaking & Towing Services, Essential to Lakers During Winter 2017
01/06/2017
Cleveland, Ohio. The Great Lakes Towing Company repositioned its Tug HURON to Duluth, Minnesota on Monday, January 2, 2017 to enhance capabilities for ice breaking, harbor assist and other services essential to commercial shipping in the Duluth-Superior region. The Tug HURON's first ice breaking operation of 2017 took place late Wednesday evening, January 4th when she assisted longstanding customer, Canada Steamship Lines M/V THUNDER BAY in the Port of Duluth.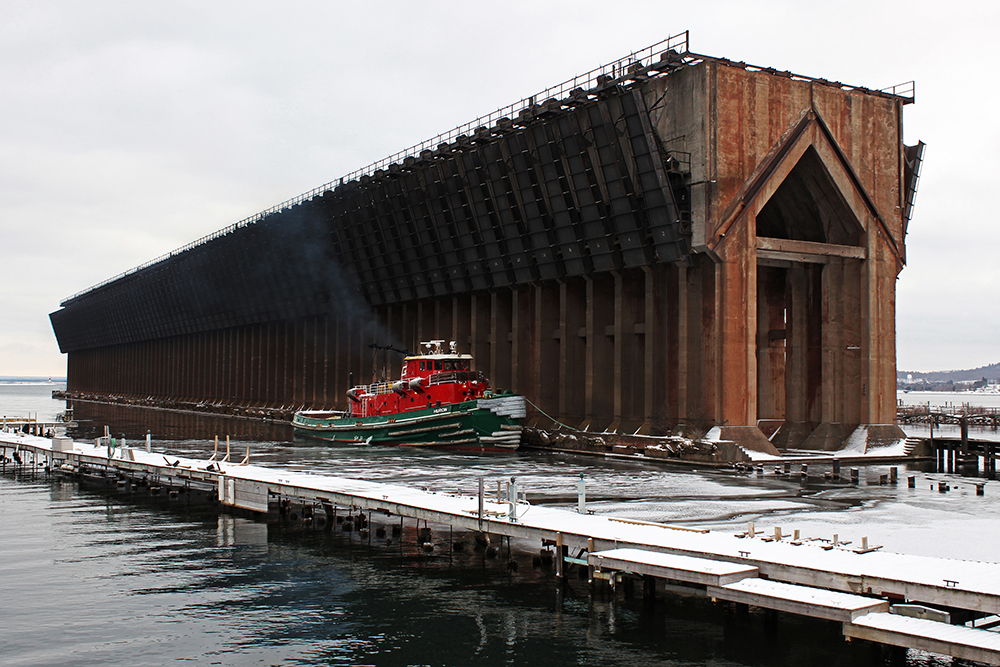 Photo Captured by Rod Burdick
Marquette, Michigan, Lower Harbor Ore Dock, January 1, 2017
Tug HURON Prior to Being Repositioned in Duluth, Minnesota
The dedicated and dependable harbor fleet in Duluth now includes Tug HURON in addition to Tugs ARKANSAS, KENTUCKY and NORTH CAROLINA, giving the fleet "fresh legs" for the upcoming ice breaking battle. This ensures the first-class harbor assist, towing, and ice breaking services that commercial shippers expect in the Port of Duluth will continue for years to come.
Tug HURON Specifications
ex-YTB-833
ABS Load Line
Length: 102'
Breadth: 29'
Draft: 13'
Main Engines: Fairbanks Morse 38D-8-1/8X10
Horsepower: 2,000
Propeller: Single Screw, 4-blade, 144" x 89"
Firefighting: 2,000 GPM Diesel Pump, with (2) Monitors @ 1,500 gal each
Photo Captured by Kenneth Newhams, Duluth Shipping News
The Arrival of Tug HURON in the Port of Duluth, January 2, 2017
"The Towing Company offers 365/24/7 service with experienced full-time crews, so that our customers always receive consistent and dependable service. With a Full-Service Lakes-Wide Towing Contract, including ice breaking and our other ancillary services, our customers gain an added level of safety and seamanship to protect their crew, equipment, and the environment; wherever their vessels may call on the Great Lakes. It's added insurance," says Joseph P. Starck, Jr., President, The Great Lakes Towing Company.
The Towing Company plans to bring two (2) more former YTBs into service during 2017. These additional tugs will be strategically stationed in other ports where ice breaking services are normally required.
The Great Lakes Towing Company provides tugboat and towing services, ship assist, logistics and cargo transportation, ice breaking, and emergency assistance of every kind of vessel, barge, and marine structure in 40 U.S. Great Lakes ports from Buffalo, New York to Duluth, Minnesota. The Towing Company's tugs perform commercial ice breaking services during the winter months of the Great Lakes Navigating season with the capability of breaking ice up to three feet thick and windrows up to six feet high. In addition to harbors and in dock areas and slips, The Towing Company also provides ice breaking services in navigable waters across the lakes in Federal Channels and shipping lanes when U.S. Coast Guard or Canadian ice breakers are not available.
To learn more, visit www.thegreatlakesgroup.com
About the Port of Duluth
The Duluth Seaway Port Authority is an independent, public agency created by the Minnesota State Legislature to foster regional maritime commerce, promote trade development, facilitate industrial development and serve as an advocate for port interests here and around the world.
The #1 volume port on the Great Lakes, the second largest dry bulk port in the U.S. and mid-America's gateway to global trade. Located at the head of the Great Lakes St. Lawrence Seaway System, the Port of Duluth-Superior is a multi-modal hub for domestic and international cargo.
About The Great Lakes Towing Company & Great Lakes Shipyard
Great Lakes Shipyard is a full-service shipyard for new vessel construction including new workboats and barges, truckable products, custom fabrication, ship maintenance and repairs, in a world-class facility that includes state-of-the-art equipment such as a 770-ton mobile Travelift and a 300-ton floating drydock. GLS facilities are located at the Company's headquarters on the Old River Channel of the Cuyahoga River in Cleveland, Ohio. GLT's shipyard expertise includes designing, building and maintaining its own fleet, as well as an extensive list of commercial and government tugboats, supply boats, ferries, barges, cruise boats, large yachts, and many other types of vessels, including larger domestic and foreign cargo vessels. The shipyard is a major contractor for the U.S. Coast Guard, U.S. Geological Survey, U.S. Army Corps of Engineers, EPA, and many other federal, state and local governments, attesting to its high-quality workmanship, on-time performance, and competitive pricing. Learn more at www.greatlakesshipyard.com.
Great Lakes Shipyard is a division of The Great Lakes Towing Company, an industry leader since 1899, providing essential, commercial tugboat services such as harbor assist and towing, ice breaking and cargo transportation in more than 35 U.S. ports, in all 8 U.S. Great Lakes' states, including Ohio, Michigan, Illinois, Indiana, Minnesota, Wisconsin, Pennsylvania, New York, and the St. Lawrence River. Learn more at www.thegreatlakestowingcompany.com