The Great Lakes Towing Company & Civista Bank Announce New Commercial Banking Relationship
08/22/2017
Cleveland, Ohio. The Great Lakes Towing Company, the largest provider of harbor towing and ship assist services on the U.S. Great Lakes, and Civista Bank, announced the companies have entered into a new commercial banking relationship.

The new facilities include a term loan and a revolving line of credit with greater availability, reduced interest and increased flexibility to support the Company's day-to-day operations and strategic growth initiatives. The Company plans to use the funds for general working capital and future revenue growth across its base.
"Working with the Civista team has been a truly amazing experience," said George Sogor, Executive VP & CFO of Great Lakes Towing. "The team's understanding of our business allowed us to close the transaction quickly and efficiently. As our organization evolves and grows, we required a strategic banking team that has the flexibility to support our operations and initiatives. But more than that, we needed a partner that will stand beside us, through the cyclical and seasonal ups and downs that define the commercial shipping and shipyard industries."
Joe Starck, the company's president said, "As a small company, we must be able to respond quickly when opportunities arise.  Civista is an 'up and comer' in on the banking scene in Northeast Ohio and has proven its ability to do just that.  They will become integral to our strategies, in both the towing and shipyard markets.  We appreciate their confidence in our business, our team and our market position."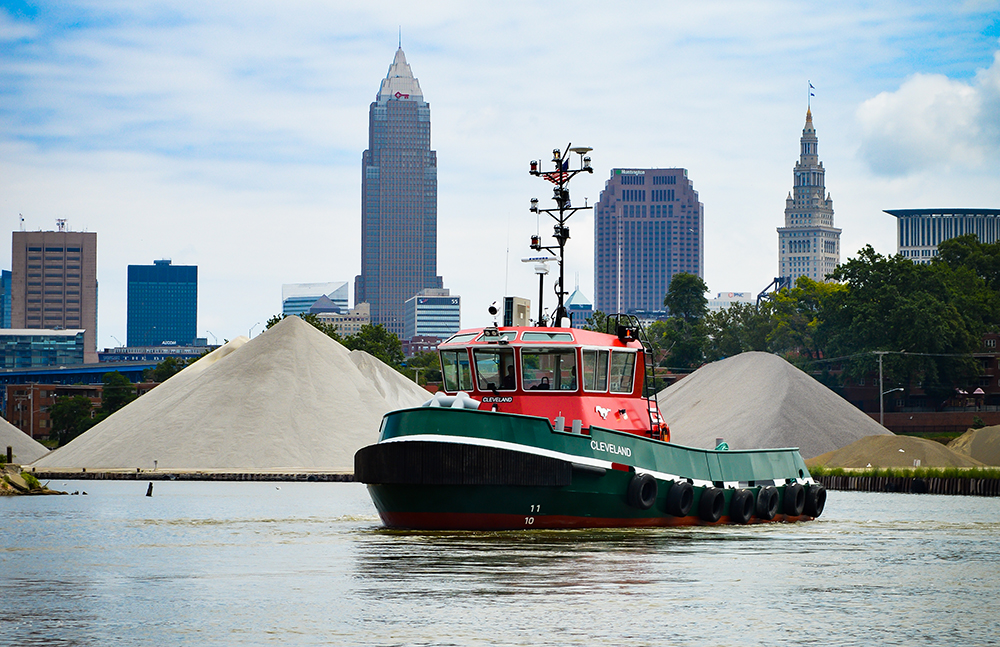 "The Great Lakes Towing Company is a solid, Cleveland-based business, established by John D. Rockefeller in 1899," said Joe Manno, VP of Civista Bank based in its new Westlake Office.  "With a proven track record of its ability to muscle through 118-years of change, we are confident in their business model and look forward to working with them." Bob Katitus, Civista's Regional Market Executive added, "We are very pleased to have been able to complete such significant financing that will enable Great Lakes the financial flexibility to continue their efforts to shore up their fleet renewal activities, while also meeting long-term growth objectives." 
About Civista Bank
Civista Bank is the banking subsidiary of Civista Bancshares, Inc., a financial holding company with assets of approximately $1.4 billion headquartered in Sandusky, Ohio.  As a full-service financial institution, Civista serves the needs of consumer, business, mortgage, and wealth management customers.  Branches are located throughout Champaign, Crawford, Erie, Franklin, Huron, Logan, Madison, Montgomery, Ottawa, Richland, and Summit counties and two loan production offices in Cuyahoga County. Learn more at www.civistabank.com.
About The Great Lakes Towing Company & Great Lakes Shipyard
Great Lakes Shipyard is a full-service shipyard for new vessel construction including new workboats and barges, truckable products, custom fabrication, ship maintenance and repairs, in a world-class facility that includes state-of-the-art equipment such as a 770-ton mobile Travelift and a 300-ton floating drydock. GLS facilities are located at the Company's headquarters on the Old River Channel of the Cuyahoga River in Cleveland, Ohio. GLT's shipyard expertise includes designing, building and maintaining its own fleet, as well as an extensive list of commercial and government tugboats, supply boats, ferries, barges, cruise boats, large yachts, and many other types of vessels, including larger domestic and foreign cargo vessels. The shipyard is a major contractor for the U.S. Coast Guard, U.S. Geological Survey, U.S. Army Corps of Engineers, EPA, and many other federal, state and local governments, attesting to its high-quality workmanship, on-time performance, and competitive pricing. Learn more at www.greatlakesshipyard.com. Great Lakes Shipyard is a division of The Great Lakes Towing Company, an industry leader since 1899, providing essential, commercial tugboat services such as harbor assist and towing, icebreaking and cargo transportation in more than 35 U.S. ports, in all 8 U.S. Great Lakes' states, including Ohio, Michigan, Illinois, Indiana, Minnesota, Wisconsin, Pennsylvania, New York, and the St. Lawrence River. Learn more at www.thegreatlakestowingcompany.com.
###
Contact
Joseph P. Starck, Jr., President, The Great Lakes Towing Company
Tel: 216-367-8126
E-mail: jps@thegreatlakesgroup.com