USCG Cutter BISCAYNE BAY Hauled Out at Great Lakes Shipyard
05/12/2014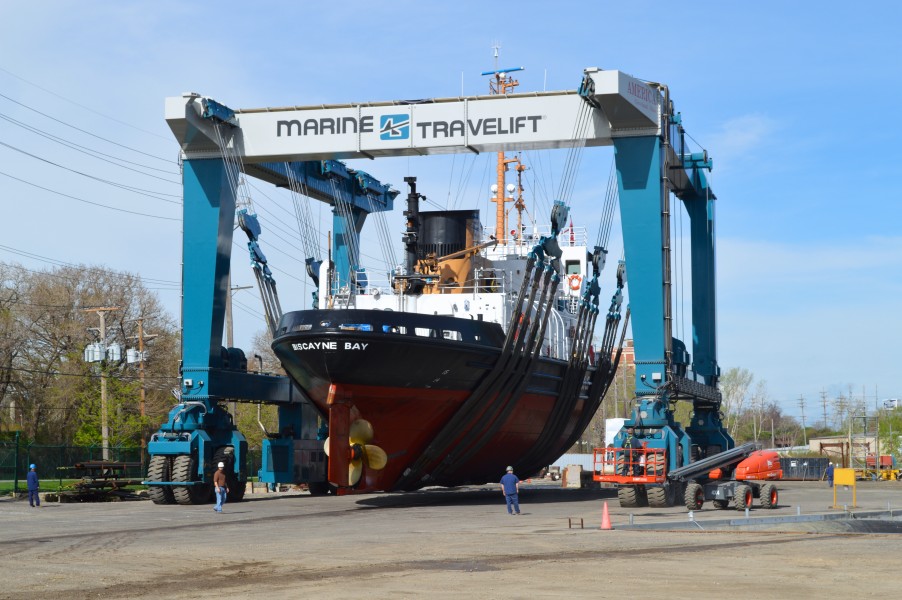 Great Lakes Shipyard hauled out the United States Coast Guard Cutter BISCAYNE BAY using its 770-ton capacity Travelift. The repair contract that started on May 7, 2014, includes drydocking and routine maintenance such as:
Hull Plating and Ultrasonic Testing
Appendages and Leak Test
Shaft Seal Assembly and Overhaul
Rudder Assembly, Remove, Inspect and Reinstall
Anchor Windlass, Level 2 Inspect and Repair
Vertical Capstan, Level 2 Inspect and Repair
Propulsion Shafting, Remove, Inspect, and Reinstall
And Other Various Cleaning, Inspections, and Repairs
This is the second of the USCG's six (6) Great Lakes stationed 140-foot Bay Class ice breaking tugs to be drydocked using Great Lakes Shipyard's new Marine Travelift. The Shipyard's Travelift has also been used to lift one of the 150-foot Buoy Barges pushed by the Bay Class Tugs, and the USCGC BUCKTHORN, stationed in Sault Ste. Marie, Michigan. The Travelift is the largest on the Great Lakes in the United States and Canada, second largest in the Western Hemisphere, and third largest in the world. It was specifically designed and sized for Great Lakes Shipyard to accommodate the Bay Class Coast Guard Cutters and other vessels. Work on the BISCAYNE BAY is to be completed by late July. Great Lakes Shipyard is a full-service yard specializing in new construction, fabrication, and repairs of all types of vessels and barges.
Contact
Joseph P. Starck, Jr.
President
Great Lakes Shipyard
Tel: 216-367-8126
E-mail: jps@thegreatlakesgroup.com