Christening of Tugs ILLINOIS and INDIANA
08/01/2023
The Great Lakes Towing Company christened their two newest tugs, ILLINOIS and INDIANA, on Thursday, July 27, 2023, during the American Great Lakes Port Association Conference in Chicago.
Representative Eva-Dina Delgado sponsored Tug ILLINOIS. She is currently serving her second term in the Illinois House of Representatives and is the Vice Chair of the Public Utilities Committee. Additionally, she is a member of several other committees, including Appropriations-Public Safety, Consumer Protection, Elementary/Secondary Education Administration, Licensing, Charter Schools, and Transportation-Vehicle Safety. Before her tenure in the Illinois State House of Representatives, Representative Delgado held various roles within the City of Chicago and the CTA. Notably, she was the first Latina to serve as Vice President of Government and Community Relations. Additionally, she worked as Vice President and Director of Community Relations, where she collaborated with numerous communities and advocated for their needs on both local and federal levels.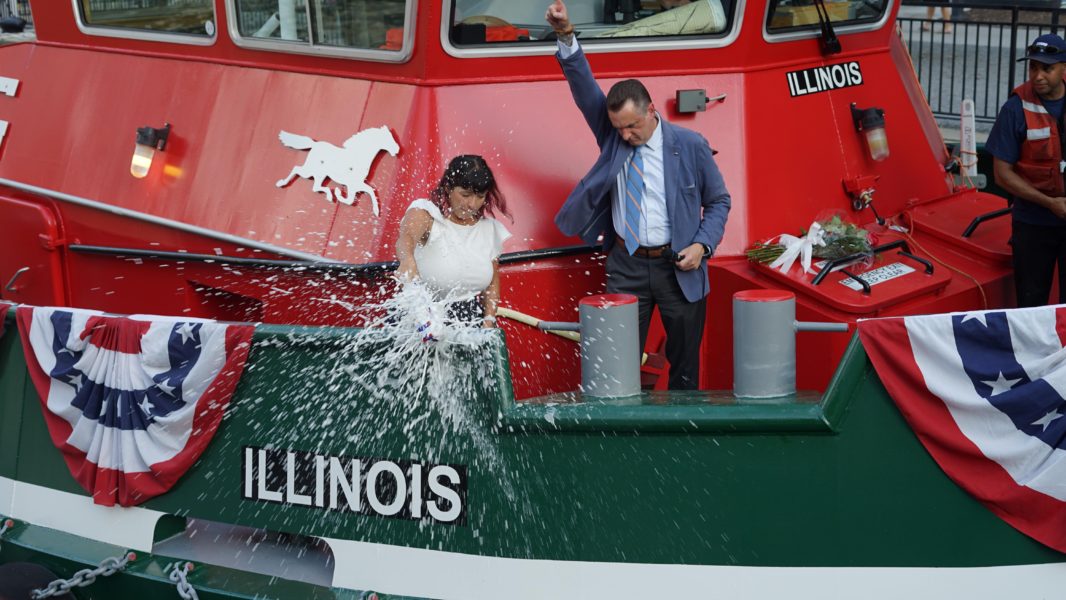 Tug INDIANA was sponsored by Dr. Orla Hart, a Clinical Teaching Associate Professor at Purdue University for the past decade. Recently, she was awarded the Exceptional Teaching and Instructional Support Award by the Purdue Teaching Academy in 2021. Dr. Hart originally hails from Ireland and holds a Bachelor of Science degree from University College Cork and a Ph.D. in Immunology from Trinity College Dublin. She is a member of various professional organizations, including the American Society for Biochemistry and Molecular Biology, the American Association for the Advancement of Science, the American Association of University Professors, and the American Chemical Society. Dr. Hart has published multiple research papers and frequently presents on topics related to biochemistry and engaging educational methods to help students achieve success. She is enthusiastic about promoting diversity, equality, inclusion, and belonging and integrates these aspects into all areas of her scholarship.